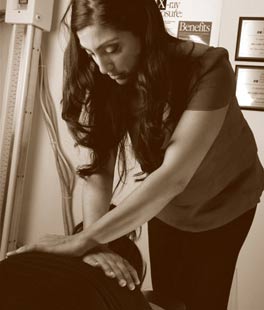 Navchaiten Dosanjh
Dr. Navchaiten Dosanjh began her chiropractic career in Portland, Oregon, during the summer of 2001, after graduating from Western States Chiropractic College. She started as an intern at a successful sports-centered practice in Beaverton, Oregon. Under the guidance of highly-regarded practitioners, Dr. Dosanjh provided chiropractic care to world-class athletes.
After her internship was completed, she moved to Bellevue, Washington, and worked with a stellar team of chiropractors, massage therapists, a naturopath and a midwife. During this period, Dr. Dosanjh began to specialize in pregnancy and pediatric cases. The amazing results of chiropractic care during pregnancy fueled her passion in this area.
During her 8 years in the Seattle area, Dr. Dosanjh was active in the local community. She was fortunate to serve as the official chiropractor for the Seattle Sounders Select women's soccer club, and volunteered her chiropractic services each year for the Susan G. Komen breast cancer fundraiser.
In 2009, Dr. Dosanjh returned to her native Vancouver, B.C., with a wealth of chiropractic care knowledge and the desire to start a practice in the Marpole area. She has witnessed the benefits of chiropractic care, and is confident in its ability to enhance the lives of children and adults. Currently, Dr. Dosanjh focuses on family health and wellness. However, she also treats patients suffering from sports and personal injury.
Dr. Dosanjh is also a member of the International Chiropractic Pediatric Association and is certified in the Webster Technique.